Overdrawing grace: "Deepening the Faith" devotional 18
This installment is part of a regular devotional series, "Deepening the Faith," written by Gordon faculty and staff for the enrichment of the wider College community.
Do not worry about tomorrow, for tomorrow will worry about itself. Each day has enough trouble of its own. —Matthew 6:34
Many of us have received the dreaded notification from our bank that we've overdrawn our account. Perhaps you've been unusually busy, or cutting things pretty close financially, or maybe you inadvertently wrote some checks before your recent deposit has cleared. You can't try to buy or pay before the money is there to cover it, or you'll just end up paying for that.
You get in trouble when you run ahead of the deposit that you need to cover what you're doing. Especially when it's God's deposit to provide the resources you need to cover the challenge you're facing. See, he's promised he would do that, but only in daily deposits.
That's why Jesus tells us in the Sermon on the Mount, "Do not worry." He concludes his challenge to live without worry: "Do not worry about tomorrow, for tomorrow will worry about itself. Each day has enough trouble of its own." Jesus portrays worrying as borrowing tomorrow's trouble before you get to tomorrow. When you do that, you overdraw God's grace deposit in your account. He puts enough in there for today, but not for tomorrow.
In Deuteronomy, God promises that "Your strength will equal your days." You get Monday's strength for Monday's burdens. If you try to run ahead emotionally to what may happen on Tuesday or Wednesday or a week from now or a month from now, you're on your own. You won't have Tuesday's grace until Tuesday. You won't have next month's grace until next month. So you're overdrawn and you don't have what you need to cover your anxiety. Worry hauls tomorrow into today and it's just too much.
God makes a wonderful promise in Psalm 68 that he "daily bears our burdens." Again, his help is distributed in 24-hour increments. And Lamentations 3 reminds us that his compassions "are new every morning." Today's mercies—for today's challenges.
You may be looking ahead at something that looks totally unmanageable, unbearable, unsolvable. Maybe the strength, the grace, the wisdom that it's going to require is more than you've ever had in your life. But you've never had this much grace in your account because you've never needed this much grace before. But when you get there, God has promised he'll deposit everything you need to cover those demands. However, if you insist on worrying about it today, you're running ahead of the deposit. And there's always a price to pay when you overdraw your account, when you try to write the check before God's resources are there. God's grace is inexhaustible. There will always be enough, but God dispenses it in his time.
If you're feeling overstressed and overwhelmed today, one major reason may be that you're bringing too many of tomorrow's burdens into today. It's called worrying. And "one day at a time" is the only way God has ever prepared us to live: daily bread, daily strength, daily mercies.
So, would you just do today? God will never let your daily need be more than the grace that he puts into your account to cover that need. If you live one day at a time, you will never overdraw his grace.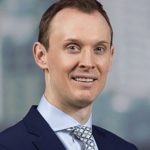 Alexander Lowry
Executive Director, M.S. Financial Analysis
Alexander Lowry is a seasoned executive with over 15 years of experience in financial services and strategy consulting, assisting private and public sector companies across North America and Europe. Alexander joined Gordon from J.P. Morgan Chase. In four and a half years at the bank, he served in senior roles ranging from deputy to the chief operating officer of the U.S. Private Bank to his recent role helping lead the firm's private foundation. Supporting the deputy director, Alexander led a wide range of management and administrative functions to help direct the firm's global philanthropic investments, giving and investing $240 million annually across 40 countries. In addition to his executive career, Alexander has been continually engaged with Haverford College, co-founding the College's finance affinity group and serving for nine years on the Annual Fund Executive Committee, including as chair. His writings and thoughts have appeared in Forbes, NBC News, U.S. News and World Report, Glassdoor and other publications.