Athletics Rising: Major Gift Improves Bennett Center and Beyond
The Fighting Scots spend countless hours in competition, training and team development each season. Because athletics facilities are home to student-athletes for significant portions of their entire college experience, the atmosphere of those physical spaces is vital.
Now, funding through Athletics Rising—an arm of the College's Faith Rising campaign—and a generous gift from the Kanas family takes the Fighting Scots experience to new heights as the College wraps up eight months of a comprehensive transformation to the Bennett Center and Gordon College Athletics.
"Fighting Scots nation can look forward to an enhanced game atmosphere that will aid in our game success," says Director of Athletics Jonathan Tymann '83. "It's thanks to the generous financial commitment of past Athletics donors and the Kanas family that we can bring these new features to life."
Stepping Up the Fighting Scots' Game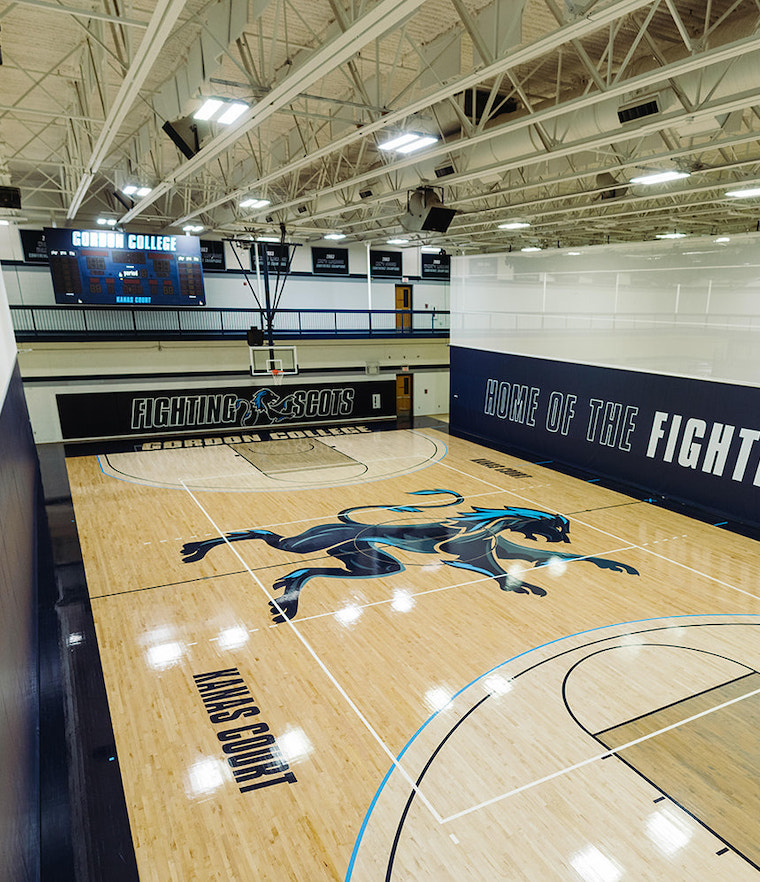 The Scots now take the court for an entirely new game experience in the Bennett Center gymnasium—complete with a comprehensive redesign of graphics on the floor and padding, automated bleacher seating, acoustical treatments, A/V system enhancements, new divider curtains, a scoreboard and a 24-foot LED scoring table system. The gymnasium court was named "Kanas Court" in honor of the Kanas family.
Updated indoor batting cages were installed in the third basketball court to allow Softball and Baseball teams to practice year-round with new pitching machines, hitting and throwing analysis systems and indoor mounds and protective systems.
Outside of the gymnasium, other Bennett spaces have also been upgraded, including additional storage for the Athletics Department, new flooring in public hallways and locker rooms, a new roof and repainting of the indoor track, walls, stairways and other areas. The adjacent residence hall, Gedney Hall, has also been renovated to create space for coaches, team meetings and additional locker rooms for athletes.
Up at the Brigham Athletic Complex, the Marc Whitehouse Broadcast Booth will be installed this summer, funded by gifts from the Kanas family and more than 30 alumni in honor of Gordon's longtime soccer coach. The booth will be installed over the summer and dedicated at Homecoming and Family Weekend 2021. Beyond raising the bar for teams who play on the turf, the Marc Whitehouse Broadcast Booth—the final piece of the Athletics Rising campaign—affirms the legitimacy of Gordon's level of program.
These enhancements come on the heels of the upgrades made to the Brigham Athletic Complex track and turf in 2018, during the quiet phase of the Faith Rising campaign, thanks to the support of several campaign partners. All further equip the College to continue to create a superb varsity student-athlete experience. But it's not just student-athletes, intramural participants and Athletics staff who benefit from the changes. The renovations provide a significant boost to the overall Bennett Center atmosphere for all students, faculty, staff, alumni and local community members who use the Center's fitness and training facilities.
"We are excited about the wide-scale improvements for the Bennett Center and the Athletics Department," says Tymann. "We care about the physical activity and healthy lifestyles that contribute to a well-rounded and fully energized student, and the experience that being on an athletic team provides our student-athletes."
The New Era of an Enduring Legacy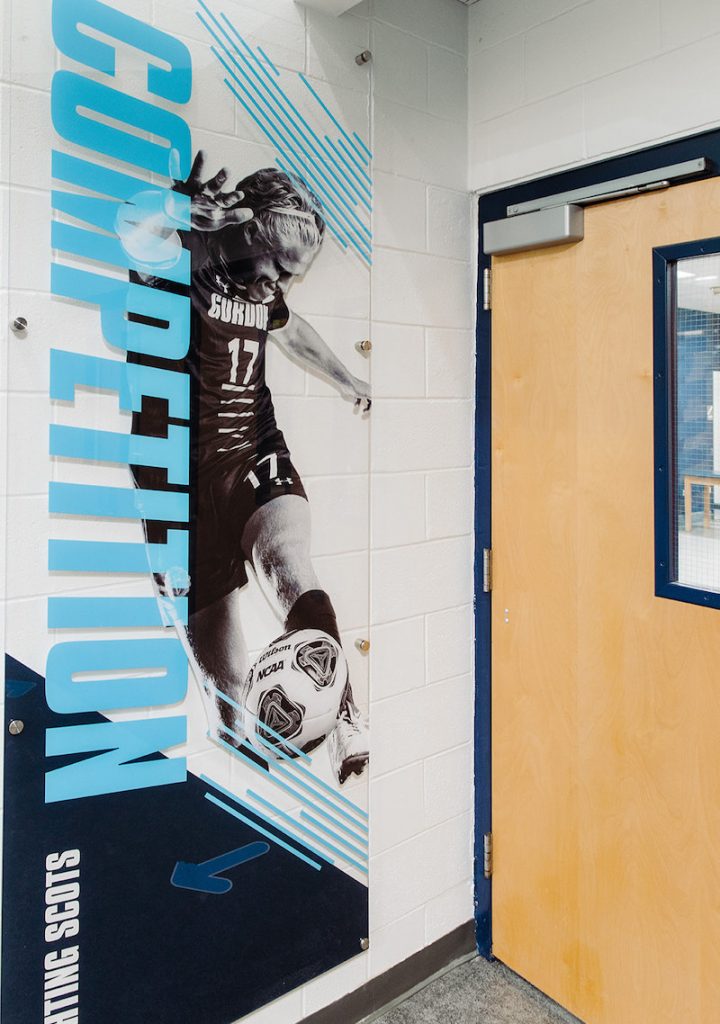 The editors of the 1933 Hypernikon perfectly captured the role of athletics in the college experience:
"Athletics have their rightful place in a well-rounded life . . . Lessons are learned . . . in cooperation—that spirit which keeps a team working together even when the odds are plainly against it; lessons in discipline, not only from the standpoint of being obedient to the discipline of a superior, but in exercising discipline in regard to one's own life and habits; and that great lesson which we all must learn—to accept defeat or victory as part of the game and ever press on."
Their prose came at a time of growing interest in athletics at the College, which was still located in Boston's Fenway neighborhood and had just fielded its first two varsity teams: Tennis and Basketball.
Today, nearly 25 percent (and growing) of the College's student body are varsity athletes—young women and men who seek to fulfill their dual callings as students and athletes by putting in incalculable preparation, discipline and ongoing mental and physical work to find success in both their studies and their sport.
Through Athletics Rising, these student-athletes and more now benefit from substantial upgrades to their workout, practice and game facilities. And while the pandemic has made competition difficult, the pause in regular activity has provided the time and space needed to make these significant renovations in time for winter and spring seasons.
About Athletics Rising
Gordon College Athletics exists to disciple student-athletes toward deep Christian faith and steadfast character while equipping them for service and leadership—all in the pursuit of victory. As servants of Christ, Gordon's student-athletes seek to compete with fervor, conduct themselves at all times in a respectful manner with integrity and humility, and have the courage to hold themselves and each other accountable to a high standard, doing all things to the glory of God.
With a goal to actively pursue excellence in athletics, Athletics Rising, a central priority of the Faith Rising campaign, has three main goals: create a superb varsity student-athlete experience; win and recruit to win; and build a campus culture that honors the talent and commitment of varsity student-athletes.
Learn more about the Faith Rising campaign >
Cheer on the Fighting Scots via livestream and broadcast >