Growing a thick skin and a tender heart: "Deepening the Faith" devotional 9
This installment is part of a regular devotional series, "Deepening the Faith," written by Gordon faculty and staff for the enrichment of the wider College community.
You have heard that it was said, "Eye for eye, and tooth for tooth." But I tell you, do not resist an evil person. If anyone slaps you on the right cheek, turn to them the other cheek also. And if anyone wants to sue you and take your shirt, hand over your coat as well. —Matthew 5:38-40
These days, too many people have taken to social media platforms to mock and bully others, sometimes on a massive scale. Many, especially the young, are so hurt—I feel their pain and pray that they can share their feelings with people whom they trust and, more importantly, with God.
Growing up in abject poverty, I was no stranger to sneers and jabs about my shabby clothes. Working on Wall Street in the 1980s when female professionals were a rarity, I heard criticism about my accent and less-than-fluent English. My coworkers accused me of being a brownnoser and having a chip on my shoulder when I was helpful to clients and nice to my colleagues. Throughout my long career in a world dominated by the elite and privileged, I was aware of mockeries and insults offered behind my back. Looking back, my "poor" English was actually helpful as I did not fully understand the derogatory insults and was not hurt as much.
At Gordon, besides teaching students what they need to learn about finance, I want them to learn how to protect themselves from feeling hurt and being side-tracked by distractions. Jesus told us, "Blessed are the meek, for they will inherit the earth" (Matthew 5:5). Indeed, one of the hallmarks of a strong leader is a thick skin (i.e. the ability to shrug off unfounded criticisms and move on to do what is right). Jesus set an excellent example for us: "He was oppressed and afflicted, yet he did not open his mouth; he was led like a lamb to the slaughter, and as a sheep before its shearers is silent, so he did not open his mouth" (Isaiah 53:7). Life is really short. Wasting our precious time on those who think ill of us will only hurt us even more.
We learn that the second greatest commandment is "love your neighbor as yourself" (Matthew 22:39). To be like Christ, we need to grow a tender heart. We should have compassion towards others, try to be encouraging and supportive to others, lift up those who are down-trodden. Let's help those mocked to grow a "thick skin" so they can wisely ignore jabs and sneers and charge ahead to improve their life and others' lives. We should help those that need help, strengthen the weak and walk humbly with Christ. We should cultivate the fruits of the spirit. If we can follow Jesus' example, more will experience God's grace and loving kindness. The doors to non-believers' hearts will open. The wounds of the afflicted will begin to heal.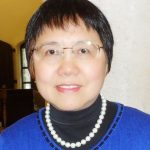 Alice Tsang
Professor in the Practice of Economics & Business
Alice Tsang spent most of her career as a fixed income analyst, covering municipal and taxable bonds issued by states and municipalities, utilities, bank holding companies and insurance companies. Alice's analysis expertise spans corporate, public and structured finance. Throughout her long business career at several industry leaders, she had worked closely with issuers, investment bankers, bond counsels, portfolio managers, traders and financial advisors. This has allowed her to bring valuable insights to students' professional development, which has led to a number of exciting initiatives at Gordon, including the Hong Kong Summer Finance Seminar. Her insights have benefited students greatly in launching their careers.
Besides managing her family's portfolios and investment property business, Alice is also an active volunteer at her church and the CFA Institute. Having climbed many steep learning curves over the years as she navigated major sectors in changing markets, Alice loves to share her learning strategies and knowledge of finance with students, and inspire them to set higher goals and be prepared for a life of significance.